Check press releases from the ICCH17 here:
Sermitsiaq, Greenland (journalist Trine Juncher Jørgensen)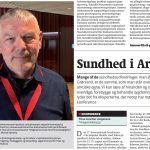 Sermitsiaq, Week 33, 2018: Issittumi peqqissuseq/Sundhed i Arktis
Nunatsiaq News, Canada (senior journalist Jane George)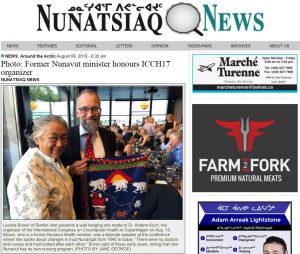 Nunatsiaq News August 24, 2018: Photo: Former Nunavut minister honours ICCH17 organizer

August 13: Copenhagen conference shines spotlight on Arctic health care. "We wish to focus on what the future may bring to the health of populations in circumpolar areas"
August 14: Community-wide TB screening effort in Nunavut involved 100 health workers: Details of Qikiqtarjuaq campaign surface at International Congress on Circumpolar Health
August  15: New suicide prevention project targets high-risk Nunavut residents. Project aims to prevent repeat suicide attempts, reduce suicide deaths
August 16:  Gene mapping holds promise for Arctic residents. In Greenland, genes point the way to better prevention and treatment
August 23: Greenlandic researcher explores the power of Inuit food. "We need to discuss what healthy food is"
August 24: Children reduce stress in northern public housing, research finds. "Those who experience an increase in the number of children per household had a greater decline in psychological distress"
August 29: Youth sexual health projects in Nunavut, Nunavik see success. Facebook-based project sees STI screening up by 35 per cent in Nunavik
Please find additional photos on Twitter feed at @sikugirl and @NunatsiaqNews.