A number of educational activities will take place in concjunction with the ICCH17 congress.
Summer school
August 16-28, 2018, the University of Copenhagen as main organiser offers a summer course on Arctic health. The course equals 7.5 ECTS and is in English. For more information about the summer school please check the website by clicking here or the picture below.
NEW (February 9, 2018:): North2North Scholarships – Congress Participation. The North2North scholarship programme offers economic assistance to students and staff from North2 North higher education institutions participating in the ICCH Congress in Copenhagen August 2018. Assistance covers participation in the Summer School and in the ICCH17 congress, August 12 – 15, 2018.
Application Deadline is 15 February 2018
How to apply: Contact the North2North contact person at your home institution for information on application procedures.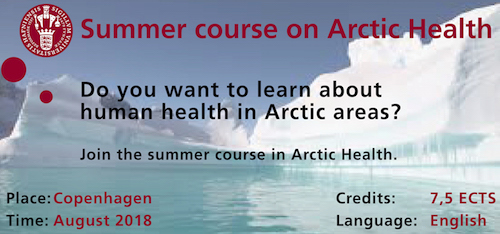 PhD course
In the days August 16-18 a PhD course on how to do research in Circumpolar areas is being planned. Organisers are the University of Copenhagen, the International Union for Circumpolar Health, and the CLINF project (Climate Change and Infectious Diseases). This PhD course will comprise the first three days of the Summer School in Arctic Health above, and may be taken independently. More information of this course will follow.